TCHS Chess Legends, Part I
Gary Davis

Rex Butler



Rex at 1985 World Open
        Our championships actually started 3 years before we won our first state title with two young men: Gary Donald Davis and Rex Butler. Both rookies at chess like myself in 1981, they decided to become the best chess players possible and took to studying Capablanca's endgames hardcore. They would study Capa's games relentlessly at my apartment in the summer as I was attending classes at NAU, all the while listening to THEIR music--"The Eye of the Tiger" from Rocky III.

        This was the origins of the Tuba City fighting chess style: while most players studied the openings (hoping for quick surprise wins), our players concentrated on understanding the endgame, and our better players often knew early in the game that they had a "won" position as long as they played good solid technique. Often our players would appear to be in trouble in the opening and in the middle of the game, and would come alive during the endgame to pull out victory after victory. This endgame mastery all started with Donald and Rex.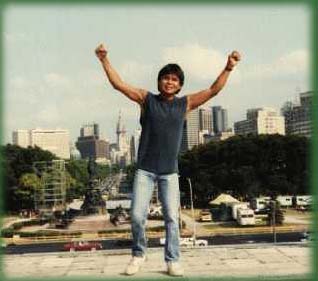 Rex Butler as "Rocky"

        So where is Rex Butler in 1998? Click on the image above and find out.

Play online chess at Letsplaychess.com

janesbit1@rocketmailcom